Welcome to Amalfi, a wonderful town located in the center of the famous Amalfi Coast, known for its extraordinary natural and landscape beauty, for its historical monuments and the unmissable excursions to discover the paths that surround it.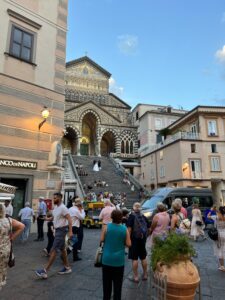 If you are interested in history and architecture, you cannot miss the Piazza del Duomo, one of the most iconic places in Amalfi as well as its beating heart.
Here you can admire the Cathedral of Sant'Andrea, a majestic 12th century Romanesque-Gothic style church, with a spectacular interior, an inlaid marble altar and a magnificent gilded coffered ceiling. It is accessed with an impressive staircase of over 70 steps that rises from the square to the atrium of the Duomo.
Next to the cathedral, there is the beautiful Chiostro del Paradiso, an internal courtyard with a colonnade with decorated arches and frescoes that will leave you speechless.
Also not to be missed is the Arsenale museum, a small jewel of medieval architecture, a reminder of the past supremacy of the Amalfi people over the seas. Icon of the ancient glories of the city, still today it is the witness of a golden age of the Italian navy.
For those who love nature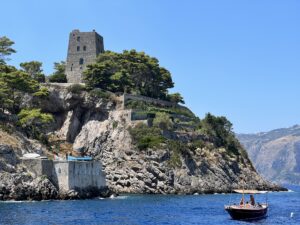 Nature lovers will enjoy the countless excursions through the paths that surround the city, among which the most famous is the Path of the Gods, which offers a breathtaking view of the Amalfi coast, or Monte Cerreto, the highest peak of the Sorrento peninsula .
Don't miss the Torre dello Ziro, a former 10th century watchtower that offers a panoramic view of the city and the surrounding sea, and the Paper Museum, which celebrates the tradition of paper production in Amalfi.
If instead you are looking for a beach, Spiaggia di Duoglio is one of the best options: a beautiful pebble beach with crystal clear waters, surrounded by cliffs.
Finally, walking along the narrow streets of Amalfi, among the typical colored houses and the artisan shops that sell ceramics and local food products is a unique experience, where at every corner you will find a surprise, a monument or a panoramic view that will leave you breathless .
Amalfi is an unmissable tourist destination for all those who wish to discover the beauty of the Amalfi coast and take an excursion to Capri or Pompeii. With its historical, naturalistic and gastronomic attractions, this city will surprise you and give you an unforgettable experience.